---
Corporate Team Building Adventures
Open Enrollment Evasive Driving/Advanced Executive Protection Driving Course
Openings! 3 day Jan 30 - Feb 1st or 5 day Jan 30 - Feb 3rd 2015 3 Day or 5 Day
To View The Entire Driving Training Seminar Page Click Here to send us a message
Safehouse Evasive Driving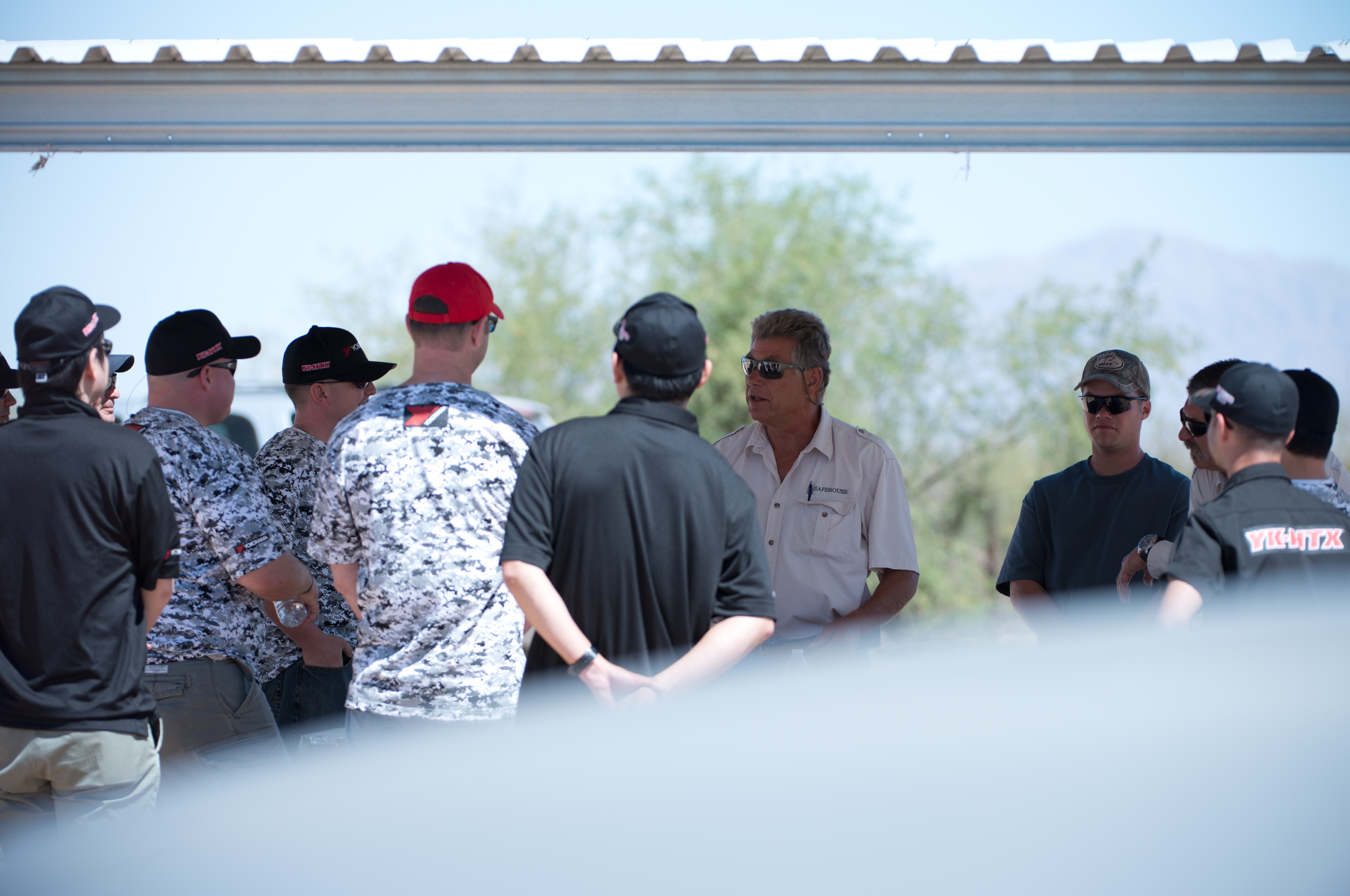 On track student briefing with Gordon Edwards
FORCE PROTECTION MILITARY DETAILS, US MARINES, US AIR FORCE, US ARMY, SPECIAL FORCES, SECURITY DETAILS, CORPORATE SECURITY, HIGH RISK PROFILE DRIVERS, EXECUTIVES OPERATING IN HIGH RISK ENVIRONMENTS, FAMILY MEMBERS, URBAN DRIVERS, YOU!
Evasive Driving Module
Safehouse Evasive Driving Convoy/Motorcade Courses are all modular in content, all courses are custom designed for the clients specific needs from Evasive Maneuvers too actual vehicular live fire or sub-munition scenarios. Safehouse excels in hands on training with maximum time behind the wheel.
Our training is held in a desert training environment or MTT your location Domestic or Worldwide
| | |
| --- | --- |
| EVASIVE DRIVING | CONTACT DRIVING |
| CONVOY/MOTORCADE DRIVING | COUNTER AMBUSH DRIVING |
| EVASIVE CONVOY/MOTORCADE DRIVING | ON OFF ROAD TRANSITION/VEHICLE TRANSITION |
| EVASIVE CONVOY NIGHT DRIVING | LIVE FIRE VEHICULAR SCENARIOS |
| CUSTOM EVASIVE DRIVING SCENARIOS | OFF ROAD |
---
A sample curriculum of a Personal Security Detachment Security Course is as follows.
Basic Evasive Driving
Contact Driving
Transportation Security
Convoy / Motorcade Procedures
Night Convoy/Motorcade Procedures
Casualty Recovery
Ambush Drills
Advance Team Operations
Threat Analysis
Working a Principal (Classroom and Field)
Introduction to CQB (Classroom and Field)
Night CQB
Surveillance Detection (Classroom and Field)
Unarmed Self Defense Techniques
Scenario Training (Sub-Munition)
Specific daily schedules are worked out together with the client. Safehouse presents clients with options for combining classroom and field work to best serve their students' needs.

SURVEILLANCE AND COUNTER SURVEILLANCE CLASSES and TRANSPORTATION SECURITY are classes included with most driving courses. Because if you can see it coming you have a better chance of not being in it!!
Safehouse driving classes are designed to provide the high risk profile driver, military, professional, executive or family members operating in high risk environments with a better understanding of various aspects of transportation security. Maximum time behind the wheel gives the student countless repetitions of evasive maneuvers. They are instructed how to use their vehicle more effectively during dangerous situations and the ability to use his or her vehicle to escape from dangerous situations which may be encountered . If you drive in convoy or solo it is very important to know what your options are, using your vehicle to escape ambushes, using your vehicle as a weapon of last resort.
Safehouse has several different levels of training starting with our Basic Evasive Driving course and our most popular class including Hooking and Ramming. The Hook & Ram class teaches the student how to use their vehicle as a weapon when there are no other options available. Transition driving is now a very popular class, teaching the student to adapt to different vehicle dynamic characteristics. Starting with intermediate size vehicles and transitions into full size vehicles and then SUV size, this gives the student the knowledge and experience to handle anything even a hummer!

Off road transition modules give the student the ability to handle off and on road emergencies, keeping the vehicle under control at all times.

Best View With

Click here to start


Photo by Mark Rightmire
The Orange County Register
All Safehouse Security Driving Courses start with classroom instruction to familiarize the student
with the goals of instruction and the exercises they will be learning, but the majority of the course is
hands on behind the wheel. Safehouse driving courses are an unforgettable experience for the
student, and an absolute necessity for any Principal , Executive or Family Member with serious
security concerns.
To View The Entire Driving Training Seminar Page Click Here to send us a message
---
| Personal Security | Executive And FamilyTraining |
| Corporate Security | Training | Training Experience
| |
---
Postal address

18686 Spruce Circle
Fountain Valley, Ca. 92708

Telephone 714 968-5916

Electronic mail

FAX 714 968-5916
---
Send mail to info1@safehouse.com with questions or comments about this web site.
Copyright © 1997 SafeHouse Security
Last modified: December 03, 2014